Extended Length Plastic Bulk Containers
---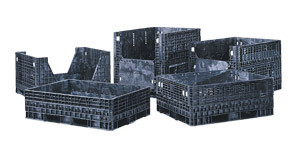 Extended length bulk containers are traditionally any plastic bulk container longer than 48", or what we call off-the-shelf extended length containers. We differentiate "off-the-shelf", because we also offer completely custom plastic bulk containers - built to virtually and length and width, based on customer needs and specifications.
Off-the-Shelf Extended Length Bulk Boxes
Choose from a wide variety of lengths and heights.
Variety of colors available.
4-way pallet style base accommodates fork lifts and pallet jacks.
Variety of sidewall and access doors options (Vary by model - 0, 1, 2, 3 or 4 hinged drop doors.)
Structural-foam molded in high-density polyethylene.
Custom dunnage and lids available.
Recyclable.
| | |
| --- | --- |
| Outside Dimensions | Capacity |
| 56"L x 48"W x 19" (Fixed Wall) | 2000 lbs. |
| 56"L x 48"W x 25"H | 2000 lbs. |
| 56"L x 48"W x 34" | 2000 lbs. |
| 56"L x 48"W x 42" | 2000 lbs. |
| 57.25"L x 48" x 17'5" (Fixed Wall) | 2000 lbs. |
| 57.25"L x 48" x 19.6" (Fixed Wall) | 2000 lbs. |
| 57.25"L x 48"W x 25"H | 2000 lbs. |
| 57.25"L x 48"W x 34"H | 2000 lbs. |
| 57.25"L x 48"W x 44"H | 2000 lbs. |
| 62"L x 48"W x 25"H | 1500 lbs. |
| 62"L x 48"W x 34"H | 1500 lbs. |
| 62"L x 48"W x 50"H | 1500 lbs. |
| 64"L x 48"W x 25"H | 1500 lbs. |
| 64"L x 48"W x 34"H | 1500 lbs. |
| 64"L x 48"W x 50"H | 1500 lbs. |
| 64.5"L x 48"W x 17.5"H (Fixed Wall) | 2000 lbs. |
| 64.5L x 48"W x 19.6"H (Fixed Wall) | 2000 lbs. |
| 64.5"L x 48"W x 25"H | 2000 lbs. |
| 64.5"L x 48"W x 34"H | 2000 lbs. |
| 64.5"L x 48"W x 44"H | 2000 lbs. |
| 64.5"L x 48"W x 50"H | 2000 lbs. |
| 65"L x 48"W x 19"H (Fixed Wall) | 2000 lbs. |
| 65"L x 48"W x 25"H | 2000 lbs. |
| 65"L x 48"W x 34"H | 2000 lbs. |
| 65"L x 48"W x 42"H | 2000 lbs. |
| 65"L x 48"W x 50"H | 2000 lbs. |
| 70"L x 48"W x 17.5"H (Fixed Wall) | 2000 lbs. |
| 70"L x 48"W x 19"H (Fixed Wall) | 1500 lbs. |
| 70"L x 48"W x 19.6"H (Fixed Wall) | 2000 lbs. |
| 70"L x 48"W x 25"H | 2000 lbs. |
| 70"L x 48"W x 34"H | 2000 lbs. |
| 70"L x 48"W x 41"H | 1500 lbs. |
| 70"L x 48"W x 44"H | 2000 lbs. |
| 70"L x 48"W x 50"H | 2000 lbs. |
| 78"L x 48"W x 25"H | 1500 lbs. |
| 78"L x 48"W x 34"H | 1500 lbs. |